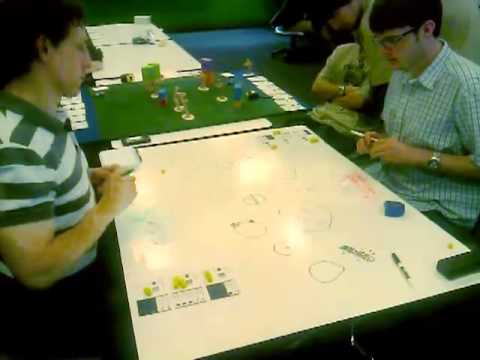 Inertia: Salvage Rights
Inertia is a tabletop wargame in which players use small squardons of spacecraft to compete for salvage in a warzone. It is played on a markable surface, such as a whiteboard, to assist players in keeping track of the game and setting up terrain features, and uses miniatures to represent units.
One of the primary features of Inertia is the use of a Newtonian-based movement mechanic, in which momentum comes into play. As a result, the cornerstone of Inertia play is not combat resolution as in many wargames, but precise positioning and anticipation of future turns.
Some of the salient features of the game include role-based ship designs, equipment power management, synergistic abilities between units and three factions with distinct play styles.
Inertia was developed as part of a class focusing on game balancing. It is co-designed by Daniel Plemmons.
Video: Daniel(right) describes salient game features to Instructor Chris Dodson(left) during the final game demo of Spring Quarter.
---